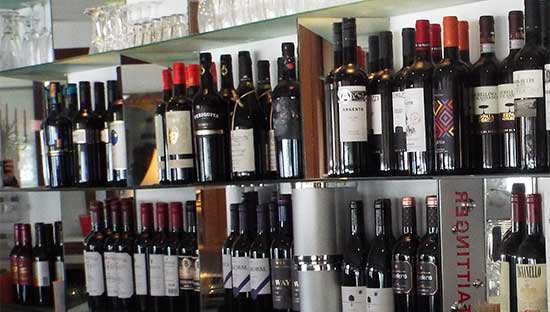 House Recommendations
Urmeneta Cabernet, Chile Gls €5.25 Btl €20.00
This intense ruby red wine has an impressive aroma, full of blackcurrant like richness. It is ripe and full bodied with a good firm backbone.
Raven Creek Cabernet Sauvignon Shiraz, Australia Gls €5.50 Btl €21.00
A deliciously fruity red wine. Ruby red in colour with a lively nose of fresh strawberries, cassis and cherries. The palate is fruity bursting with ripe raspberry and black cherry flavours.
Masseria Del Fauno Negromaro, Italy Gls €5.90 Btl €22.00
This wine is sweet, fruity and spicy with intense flavours leading to a soft supple finish.
Red Wines
Farnese Montepulciano d'Abruzzo DOC, Italy €24.00
Ruby red with garnet reflections. Intense, persistent and fruity. Full body, good tannins and well balanced.
Montepulciano d'Abruzzo Riparosso, Illuminati, Abruzzo, Italy €26.00
Full-bodied and round, ripe red fruits on the palate, with a note of licorice on the finish.
Chianti Classico picus DOCG Tuscany, Italy Gls €7.50 Btl €29.00
Very harmonious, warm and full-bodied. The tannins are soft and pleasant and impart an optimal structure and long finish.
Merlot IGT Endrizzi Trentino Organic, Italy Gls €7.00 Btl €26.00
From Merlot grapes cultivated in the hills of Trentino comes this ruby-red, fruity wine typical of the varietal character.
Tufaliccio Marco Carpineti Organic, Italy €33.00
Dark deep ruby red, vinous scent with a hint of violets, smooth fresh and round,
however consistent.
Château Camplazens Marselan, France €26.00
Deep dense purple colour with smoky wood fire aromas. Impressive weight of pure fruit, firm and fully ripe tannins and a long impressive finish.
Domaine de la Colombette Pinot Noir, France €27.50
The palate displays cherry skins and strawberry jam with a hint of bitter chocolate and all spice. Wonderfully balanced and expressive.
Chateau La Baronne Corbieres AC, Languedoc, France €31.00
Intriguing flavours of violet, blackberry, and roasted herbs, leading to a full flavoursome finish.
Ribera del Duero, Condado Tempranillo, Spain €29.00
A glass-coating opaque purple color offering up a fragrant perfume of Asian spices,
incense, violets, espresso, and blackberry. On the palate it is sweetly-fruited, ripe, plump, and tasty.
El Descanso Merlot, Chile €24.00
Aromas of fresh red fruit and some spicy notes, rounded out with a touch of roasted coffee.
Delicato Woodhaven Cabernet Sauvignon, California €25.00
Deep garnet in color, this wine explodes with rich fruit flavors of plums, blackberries and cassis accented with lightly toasted oak.
Gouguenheim Malbec, Argentina Gls €7.50 Btl €28.00
This sun loving Malbec is deep in colour, plum and juicy, slight sweetness in the mouth with just the right amount of tannin
Rose Wine
France
Marquis de Goulaine Jean Sablenay Gls €6.50 Btl €25.00
Rosé D'Anjou
An expressive nose with floral and fruity notes. On taste, round and lively, with intense and lasting aromas.
Sparkling & Champagne Wines
Serena Prosecco Frizzante, Italy €25.00
This is a light mildly sparkling Prosecco with lovely fruit concentration, a pretty pale
lemon colour, the wine is fruit led and well balanced, with a gentle mousse making it the perfect aperitif or accompaniment to white meats and fish.
Santa Margherita Prosecco Superiore Brut Valdobbiadene, Italy €39.00
This sparkling wine displays a fine, persistent perlage, while on the nose it offers
attractive floral notes of peach and acacia blossom alongside delicate scents of reinette apples, all expressed with great cleanness and elegance. On the palate there is perfect harmony between the fresh and appealingly lively sensations and the roundness and delicacy of the fruit.
Sacchetto Prosecco Snipe 20cl €8.00
Typical strong fruity scent, nuances of white flowers such as acacia and wisteria are clearly detectable. Fresh, fruity, with a pleasant bitter background aroma.
Dessert Wine
Errazuriz Late Harvest Sauvignon Blanc, Chile 37.5cl €25.00
Gls €6.75
Beautiful characteristics of honey, raisins, and aromas of ripe apricots and quince with citrus and floral notes. The palate has a good attack and body, with an excellent balance between acidity and sugar, which makes it feel fresh and fruity.
Half Bottles
White
Pionero Sauvignon Blanc, Chile €13.00
Colombette Sauvignon Blanc, France €14.00
Marques de Caceres White €14.00
Red
Pionero Merlot, Chile €13.00
Colombette Grenache, France €14.00
Marques de Caceres Crianza €15.00